Jaki Shelton Green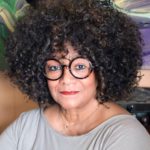 Jaki Shelton Green, ninth Poet Laureate of North Carolina is the first African American and third woman to be appointed as the North Carolina Poet Laureate. When he appointed her in 2018, Governor Cooper stated that "Jaki Shelton Green brings a deep appreciation of our state's diverse communities to her role as an ambassador of North Carolina literature. Jaki's appointment is a wonderful new chapter in North Carolina's rich literary history."
Her collegiate and professional experiences include currently teaching Documentary Poetry at the Duke University Center for Documentary Studies, Visiting Professor for the Carlow University MFA Program, Lenoir-Rhyne University Writer-in-Residence, Duke University Teaching for Equity Fellow, 2019 Barnard College Africana Studies Department Lewis-Ezekoye Distinguished Lecturer, 2019 UNC Chapel Hill Sonja Stone Memorial Lecturer, Taller Portobelo Artist Colony Portobelo Panama, University of Panama, Department of Cultural Resources for Brazil, University of Wisconsin-La Crosse Distinguished Visiting Writer, North Carolina Turkish Association, Alhambra Cultural Center in Marrakech Morocco, NC Symphony, NC African America Cultural Heritage Commission.
She is the owner of SistaWRITE and co-partner with Dream Yourself Awake and Vertikal Creative Ventures providing writing retreats and travel excursions for women writers in Sedona Arizona, Ocracoke North Carolina, Agadir Morocco, and Tullamore Ireland.
Her publications include: Dead on Arrival, Masks, Dead on Arrival and New Poems, Conjure Blues, singing a tree into dance, breath of the song, Feeding the Light, i want to undie you.
On Juneteenth 2020,she released her first LP, poetry album, The River Speaks of Thirst, produced by Soul City Sounds and Clearly Records.