Kathy Simmers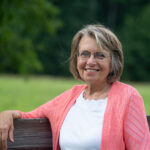 Kathy never intended to become a writer. She never intended to become a CPA or an entrepreneur either. Her dream was to live on a horse farm. However, in her early twenties she found herself raising two children as a single mother on welfare. In order to provide for her family, she put herself through college and earned her accounting degree. She went on to build a successful accounting firm and serve as a leader within the business community. After 20 years, as CPA, Kathy decided it was time to pursue the dream of living on a farm. She sold her accounting practice and relocated to North Carolina where she started another successful business teaching people how to create additional income streams and healthier lifestyles.
Kathy officially transitioned into her new career as a writer and publisher with the release of her first childrens' book, Jump the Moon, published by her own publishing company, Bound to Happen. The book is based on the inspirational true story of a girl and a pony that unfolded before her eyes.  Released in October of 2020, Jump the Moon sold over 2,000 copies in the first 90 days and is a recipient of the Mom's Choice Gold Level Award.
Kathy has two other books expected to be released later this year. Today she is living her dream life on her farm with horses, llamas, goats, cats, a dog and a small flock of chickens. She is passionate about inspiring readers of all ages to follow their dreams.