Afsaneh  (Sunny)Abree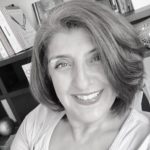 Afsaneh's stories of attending a Catholic school while living in a muslim country is where you learn of her. Stories of studying during revolution & missile attacks and making a choice to be an instrument for growth.

Afsaneh received her BSc in Chemistry in 1990 but soon realized that her passion for human relations and getting lost in the pages of books surpasses her love for labs and titrations. After moving to the US in 2001 and establishing herself as a Business Development VP in corporate America she went back to school and got certified as an Integral Coach in 2010. As a lifelong learner, an avid reader and a lover of nature, Afsaneh, brings her her whole experience, passion and vision together and allows it to affect her writing. She is not afraid to make herself vulnerable through her written prose and poetry. 

Afsaneh was published in two Anthologies during the pandemic and regularly blogs. She is currently working on two books: A memoir of revolution, war, immigration and love along with a collection of words of wisdom in memory of her late mother. 
To reach Afsaneh you can email her at aabree@conerstonestrategies.net
Afsaneh is a member of the Diversity is Good! panel.