Dewey Cassell
Writing a Biography You'd Want to Read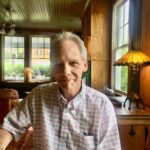 Dewey Cassell writes about popular culture. He has written four biographies, including "The Art of George Tuska," "Marie Severin: The Mirthful Mistress of Comics" (nominated for a 2013 Eisner Award), "The Incredible Herb Trimpe," and "Mike Grell: Life Is Drawing Without An Eraser" (nominated for a 2019 Eisner Award).
In addition, he has written over 50 articles for magazines such as BACK ISSUE, Alter Ego, Rough Stuff, and Jack Kirby Collector. He also wrote the introductions to volume 5 of the IRON MAN Marvel Masterworks and volume 11 of the HULK Marvel Masterworks. In addition, he contributed to the 2011 book "Genius, Isolated: The Life and Art of Alex Toth" and wrote 10 entries for the 2014 encyclopedia "Comics through Time: A History of Icons, Idols, and Ideas." Most recently, he contributed to episode 2 of the Disney Plus docuseries Marvel 616.
Follow him on Instagram: @deweycassell 
https://www.linkedin.com/in/deweycassell/
Dewey will appear on the Biography and Memoir panel.