M. Scott Douglass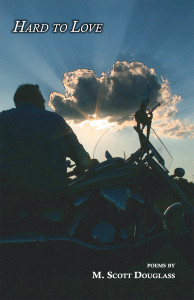 M. Scott Douglass is the Publisher and Managing Editor of Main Street Rag Publishing Company founded in 1996 with the publication of The Main Street Rag, a quarterly literary journal. His company's facilities have since produced thousands of books for itself as well as other publishers.
He grew up in Pittsburgh and lives in Charlotte, NC with his wife Jill. His poetry has appeared in such places as The Asheville Poetry Review, Iodine Poetry Journal, Southern Poetry Review, and Sundog and was nominated for a Pushcart Prize in 1993.
He also received an Emerging Artists Grant from the NC Arts & Science Council in 2001 which was used to publish his first book of poetry, Auditioning for Heaven. Other books include Balancing on Two Wheels (2003), STEEL WOMB Revisited (2005), and most recently, Hard to Love (2012). In 2006, he was the recipient of the Irene Blair Honeycutt Legacy Award. In 2010 the Poetry Council of North Carolina awarded him a Certificate of Dedication.
His work background includes stints in construction, demolition, and coaching; he's owned a bookstore, bred rats for the University of Pittsburgh's Pathology Department and wrestled a lion, but the bulk of his experience prior to publishing was as a certified dental technician.
After returning to school, he earned he earned a BS in Graphic Arts from Central Piedmont Community College in 2000. His cover design work has won two PICA Awards along with several Indie Press nominations.
Website: http://mainstreetrag.com/
M. Scott Douglass is on the Mistakes to Avoid with Publishers panel.