Adonal Foyle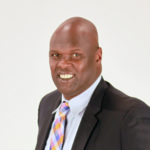 Adonal Foyle is a retired NBA player, who was the eighth overall pick in the 1997 NBA draft. He played a total of 13 seasons, the first ten with the Golden State Warriors and last three with the Orlando Magic. Upon his retirement from playing professional basketball, Adonal joined the Front Office for 2 seasons with the Orlando Magic as their Director of Player Programs and served as the Community Ambassador for the World Champion Golden State Warriors from 2014-2020.
Adonal grew up in the tiny nation of St. Vincent & the Grenadines, where he first picked up a basketball at the age of 15. His quest for a college education which ultimately led him to the USA and into the NBA is an amazing and inspirational story of ambition, hard work, and a little bit of luck. Growing up in impoverished circumstances in the Caribbean dramatically influenced Adonal's worldview, and off the court, he has always been an activist with a deep commitment to the community, especially young people.
Despite being recruited by several top basketball colleges, Adonal made the unorthodox decision to attend Colgate University, a small liberal arts college in upstate New York. A major factor in this decision was his desire to leave college with a strong academic grounding. At Colgate, he set an NCAA record with 492 career blocks which was only broken in 2002. Although he left Colgate early to join the NBA, he maintained his commitment to education and graduated in 1999.
During his NBA playing days, Adonal was a defensive specialist, collecting over 3,400 rebounds, and bringing toughness and tenacity to every game. He holds the Warriors franchise record for blocked shots at 1,140. He was a member of the 2009 Eastern Conference Champion Orlando Magic.
Adonal has received many honors, including induction into the World Sports Humanitarian Hall of Fame, and the CoSIDA Academic All-America Hall of Fame, NBA Players Association Community Contribution All-Star Award, Social Change Agent (Greenlining Institute), NBA Community Assist Awards (multiple years) and named Runner Up Central Floridian of the Year by the Orlando Sentinel in 2010. He has also been appointed as a Goodwill Ambassador for St. Vincent & the Grenadines and has been honored with his own national postage stamp.
A published author, national speaker, and consultant, Adonal resides in Northern California.