Amanda Lamb Keynote Speaker
A Writer's Journey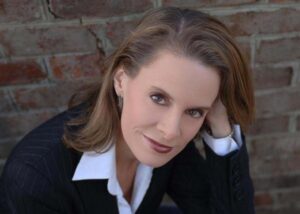 Amanda Lamb is a veteran television crime reporter with more than three decades of experience in the trenches. She works for an award-winning NBC affiliate, WRAL TV, in Raleigh, North Carolina. She also appears on a regular basis on national news magazine programs and networks which feature crime stories.
In 2021, Amanda published her second work of fiction as part of a mystery series based on the escapades of a television news reporter called Lies That Bind. It is the follow up to Dead Last which was published in 2020. Her third book in the series, No Wake Zone, is scheduled to be released in May of 2022.
Amanda is also the author three true crime books based on murder cases she has covered for WRAL including: Deadly Dose, Evil Next Door, and Love Lies. She has published four memoirs, one about caregiving and three about parenting, including: The Living Room, I Love You to God and Back, Girls Gone Child, and Smotherhood. Amanda has penned two children's books, including a story book version of I Love You to God and Back and We Are Not the Same.
She also writes blog for WRAL's website called "Go Ask Mom."
Contact Information
To learn more about Amanda and her work go to www.alambauthor.com.
You can also find her on Facebook under @wralAmandaLamb or under @stagemight
on Twitter @alamb and Instagram @wral_amanda_lamb.