Carolina Fonseca Jimenez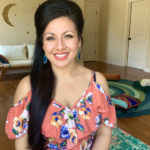 I was brought to the United States at the age of 2 years old. We came here in search of a better life and in hopes of achieving the American Dream. I grew up in the public-school system, went to East Carolina University to study Psychology and then to Central Law School.
At the end of my studies, the most important thing I learned was that our Latino culture and family needed to be celebrated. I realized that I needed to reconnect and unite with myself and with my family in a way that celebrated and united our two cultures, so I began to learn more about myself and used my dreams to guide me.
The process of using my dreams to guide my life led me to writing my first children's book, Lupita and the Magic of Mexico. My passion for writing and uniting families through my book filled me with the determination to write my second book, Lupita and her Magical Dreams! This book features the significant role dreams play in our lives at an early age. 
In writing these books I learned that love has no borders and that stories can unite us in a magical way. My passion is to inspire those around me by my example and my mission is to provide guidance in the art of Dream Interpretation. 
Contact:
Website https://www.lupitainspires.com/ 
Facebook https://www.facebook.com/LupitaInspires/ 
Instagram https://www.instagram.com/lupitainspires/ 
YouTube English: https://www.youtube.com/channel/UCt_gNb3sDE0FfW7sC-xDb4g?view_as=subscriber 
YouTube Spanish: https://www.youtube.com/channel/UCUbHj9hpG1gSRYslDqcvuyQ?view_as=subscriber 
Carolina is on the Multi-Cultural Authors panel.