Daniel David Wallace
Three Plot Traps to Avoid When Writing Your First Novel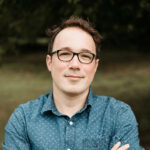 A British writer living in Tennessee, Daniel David Wallace is the creator of the "character-first" approach that has helped thousands of novelists get unstuck and plot their books. Every year, he hosts writing online summits that attract a worldwide audience, such as Style and Voice: the writing style summit (April 2nd and 3rd). These events have been praised over a wide range of podcasts and YouTube channels for their vibrant community and welcoming atmosphere. He also writes a semi-daily newsletter, Writing Related, for an audience of over 6,000 writers. He is not, sadly, the Daniel Wallace who wrote Big Fish, and nor is he Daniel Wallace MD, of Boston, whose patients regularly email him requests for medication.
.
Contact

Website  https://summit.styleandvoice.com
Instagram @writingdaniel
Daniel will appear on the Write Your First Book panel. He will speak about writing fiction.