Jim Skiff
The Heart of the Moment, Songs For The Stage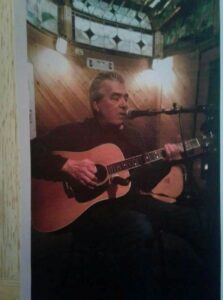 Jim Skiff is an award-winning composer, actor, playwright, and recording artist. He has released three solo albums, Sky and Lake, Rooted, and Flower and Sword. Flower and Sword was engineered and produced by Grammy winner Dave Moulton for Icarus Records (1979) and was one of the first all-digital albums recorded in the world. He also has released The Stonecutter Sonnets in collaboration with Pam Verity and the original cast recording of Silver Apple of the Moon. More recently, Jim released The Skiffs debut EP, Don't Ask Questions (2019), and The Skiffs LP, Inner City Jitters (2020), in collaboration with his daughter Erin Skiff.
Jim attended Pierce College in Woodland Hills, California, where he was a founding member of the Grammy-nominated vocal group, The LA Jazz Choir. His plays have been featured at First Night Pittsburgh, (Into the Fire), The Buhl Planetarium (Stargazer: The John Brashear Story), and the Carnegie Science Center and Phipps Conservatory (Rachel Carson: The Girl Who Loved the Sea), and have been enjoyed by over half a million children and adults in schools, libraries, museums, and small venues throughout the tri-state area.
Jim was the musical director at the National Playwrights Showcase at Mercyhurst College and toured regionally with Mad River Theatre Works and his own company, On the Wing Theatre. His folk ballet, Flower and Sword, was premiered by the Erie Bayfront Ballet Company, and he was a guest soloist with the Erie Bayfront Orchestra (Mozart Coronation Mass).
Skiff has been compared to Theodore Bikel, Phil Ochs, and Gordon Bok. Jim's lyrics are poetic, sometimes pointed, and often hilarious. His musical influences include Joni Mitchell, Leonard Cohen, Jacques Brel, John Prine, Pierre Bensusan, The Paul Winter Consort, John Renbourn, The White Buffalo, David Grisman, Sly Stone, and Frank Zappa.
Website: http://jim-skiff-music.herokuapp.com
Contact Link: skiffjimmy@gmail.com
Jim will appear on the Poetry and Songwriting panel.